'Hiob's Truck Cam' is now deactivated.

Go to the Live Scenery Cams

Broadcaster - reactivate your stream by logging into the system. To stay activated, log in at least once every 30 days.

Hiob's Truck Cam

Kamera na moim trucku podrozujacym po USA. Wszelkie pytania prosze zadawac na forum, link ponizej. Ponizej jest tez kilka zdjec. Wiecej fotek na forum. --- <*)))>< --- Webcam on my 18-wheeler. Below you can see few pictures from my family album. Thank you and welcome.

Stream Location: USA
Broadcaster Since: July 22, 2007.
Hit Count: 3514769.
Homepage: http://www.katolik.us
Obraz z kamery na mojej ciezarowce. Nie zawsze mam wystarczajaco szybki Internet, zeby obraz byl plynny. Takze w niektorych regionach USA w ogole nie mam mozliwosci nadawania obrazu. Jest takze limit ogladajacych, narzucony przez "camstreams.com" i wynoszacy aktualnie 60 widzow. Gdy mam wiecej chetnych do wspolnej podrozy, nie moga oni zobaczyc obrazu z kamery. Masz uwagi, lub pytanie? Zapytaj na moim FORUM . Zdjecia z podrozy znajdziesz TUTAJ, krotkie filmy nakrecone z trucka (moj kanal na youtube) TUTAJ, a TUTAJ jest interaktywna mapa pokazujaca moja aktualna pozycje.

--- <*)))>< ---
Webcam on my truck. Sometimes Internet connection is to slow to broadcast good quality video. Sometimes I have no coverage whatsoever. Short movies (my youtube page) recorded from my truck are HERE.
HERE is interactive google map showing my actual position.



To zdjecie jest z zimy 1958/1959 i zrobione jest w Zakopanem. <*)))><
This picture from winter 1958/59. I'm in Zakopane in Tatra Mountains in southern Poland.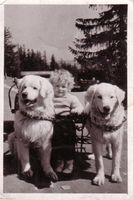 To lato 1965. Moj pierwszy oboz harcerski, dzien odwiedzin rodzicow. Ja oczywiscie za kierownica Warszawy, a "modelki" to moja siostra Ewa z kolezanka, Bogusia. <*)))><
Summer 1965. My first cub scout camp. This cab it is a Warszawa M20, based on pre-war German Opel and produced in Poland under Russian license.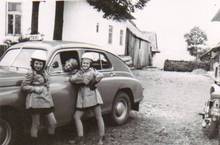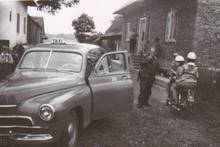 125 P mojego szwagra. Bylismy tym samochodem na pieknej wycieczce w Gruzji i Armenii. To zdjecie wlasnie z tej wyprawy. Rok 1976 <*)))><
POLSKI FIAT 125p, trip to Russian Georgia and Armenia in 1976: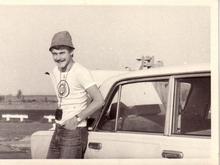 Maluch prawde mowiac byl taty, nie moj, ale jezdzilem nim ja. Zdjecie gdzies z roku 1979 <*)))><
My father's FIAT 126P. Dad didn't like to drive, so I could use his little car. It was 10 feet long, had 2 cyl air cooled engine. Size of an original Mini, but had only 17 HP. Mini was three times more powerful. It is year 1979: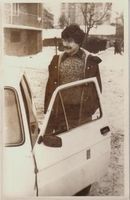 Rok 1982 i pierwsza praca w USA. Moja (wtedy) ulubiona ciezarowka, Mack model "R" <*)))><
My first job in the USA, in 1982. I worked at Shippers Freight Lines, owned by Mr. Robert Bare. I did it for two years, driving Fords 9000, White Freightliners and Macks like this one: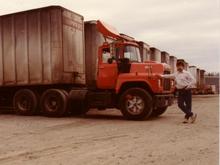 Wymarzony samochod, Ford Mustang GT. Nie byl to moj pierwszy nowy samochod w USA, ale poprzednie to byly "malenstwa", Nissan Sentra i Honda Civic. Ten byl taki, jaki powinien byc samochod w Ameryce, z silnikiem V8. To rok 1986. W 1987 zamienilem go na kolejny model, to ten bialy. Potem zamontowalem w nim kompresor. Mial on okolo 400 KM. Modelka na masce to Grazynka, moja ukochana zona. TUTAJ jest film z tym Mustangiem i ze mna za kierownica.<*)))><
My first dream car, 1986 Ford Mustang GT. Year later I trade it for model 1987, and later supercharged it. It had about 400 hp, which was pretty cool in late eighties. Corvettes could eat my dust :) Model on the hood that's my wife, Grazynka. HERE is a short movie with this Mustang before I installed supercharger in it.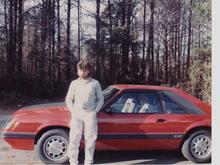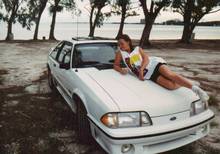 Natomiast motocykl mialem zdecydowanie gorszy. Kawasaki Ninja 250 miala co prawda 38 KM przy 14 000 obrotow, co przy jej niewielkiej wadze pozwalalo osiagnac setke ponizej szesciu sekund, ale ciagle nie byl to Harley. Rok 1987 <*)))><
My bike was just a little toy. 250 cc baby Ninja. It had screaming little engine, red line was at 14 000 rpm, but it had only 38 hp, good enough to run 0-60 in 6 s: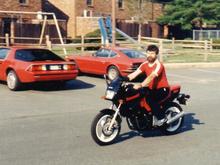 Moja pierwsza wlasna ciezarowka, Kenworth K 100 i Grazynka, moja ukochana zona, ze mna na trasie w Texas Canyon w Arizonie, na wycieczce pod budynkiem New York Stock Exchange w Nowym Jorku i na wakacjach na Florydzie. To mniej-wiecej lata 1987-89 TUTAJ jest film pokazujący ostatnia trase tego Kenwortha do dealera ciezarowek. <*)))><
My first own truck, ( KW K100, and my first and only wife, Grazynka. Texas Canyon in Arizona, NYSE building in NY and Florida vacation. Years 1987-89: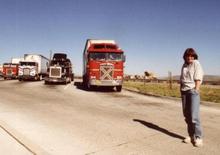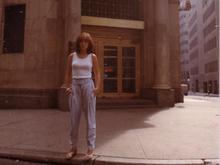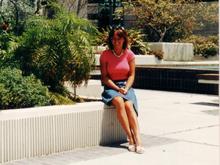 Ferrari F40 byl produkowany w bardzo limitowanej serii i oficjalnie kosztowal 400 000 dolarow. Jednak gdy go ktos chcial rzeczywiscie kupic, musial sie liczyc z wydatkiem rzedu miliona dolarow. Byl to pierwszy samochod produkowany seryjnie, ktory mial maksymalna szybkosc ponad 200 mil/h, a setke osiagal w 3,2 sekundy. Sa to osiagi, jakich nie powstydzilby sie zaden supercar nawet dzisiaj, 20 lat pozniej. Ja mialem okazje przejechac sie nim po parkingu na lotnisku Kennedy'ego, gdzie odbieral go inny kierowca, by go zawiezc do dealera w New Jersey. To jest rok 1990: <*)))><
Ferrari F 40 I drove on a parking lot at JFK Airport: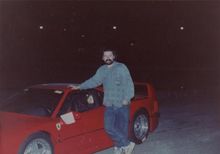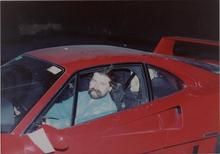 A to juz dzisiejsze czasy i ciezarowka, ktora jezdze teraz. Volvo VN 780, model 2006. Zdjecia pochodza z roku 2007 <*)))><
Truck I drive today, Volvo VN 780: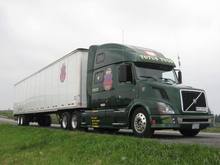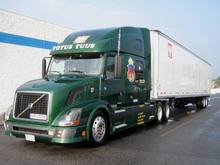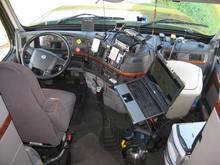 A to nasz domek w Matthews, NC i ja we wlasnej osobie. Zdjecia sprzed kilku lat, moje zrobione w Krakowie, podczas wizyty u rodziny. <*)))><
Our house in Matthews, NC and I in Krakow, Poland, visiting my family couple of years ago: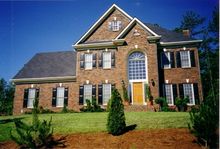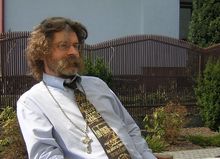 No, I didn't fly a Concorde, but I worked at the JFK hauling air freight. Those pictures are here only to remind us about that marvelous plane and the WTC towers it flies over. HERE is a movie I have made showing landing of the Concorde. <*)))><
Concorde nie jest "jednym z moich pojazdow", nie lecialem nim nigdy, ale pracujac na JFK widywalem go czesto. Te zdjecia przypominaja nam takze wieze WTC na Manhattanie, nad ktorymi przelatywal ten samolot schodzac do ladowania. Mam tez film nakrecony w tamtym czasie, mozna go znalezc TUTAJ